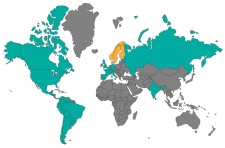 NEW YORK, NY, May 1, 2017 (Newswire.com) - Touchstorm, LLC now has full-time, native-born marketers in the four Nordic countries, per the announcement made by Alan Verdun, Chief Growth Officer / CRO of the U.S.-based tech-enabled services company.
Verdun expanded on the announcement by explaining: "Our growth has taken off in the last few months, and I am so pleased that we now have YouTube and strategy specialists 'in language' speaking Danish, Finnish, Norwegian, and Swedish in addition to English (U.S., U.K., ASEAN), French, German, Italian, Portuguese, Russian, Spanish, and Turkish."
Hej! Hei! Hallo! Hallå! Officially adding the four Nordic countries has really rounded out our European presence. For YouTube Audience Development services specifically, these staff additions create efficiencies that allow us to offer low rates for those markets commensurate with their populations.

Carol Cropp, Touchstorm • SVP, Global Sales
Touchstorm has four primary services that include YouTube Audience Development, Influencer Marketing, Video Production, and Topic Finder Research. "That means that all four of our primary services are now available in all of these languages," Verdun added.
About Touchstorm, LLC
Staffed with a unique blend of marketers and technologists, Touchstorm is owned by Diginary Holdings, headquartered in New York and Richmond, with global employees serving clients around the world in twelve languages.
Touchstorm (www.touchstorm.com) is a tech-enabled services company that builds social media audiences for the world's largest brands. Using strategic solutions rooted in data, Touchstorm manages YouTube channels for organic growth, creates and executes influencer-marketing campaigns, conducts Topic Finder research, produces social videos, and executes paid media. Sister company VideoAmigo (www.videoamigo.com) is a free self-serve social media analytics platform for creators and brands that helps users Rise Above Your Rivals™.
In a world where data-rich marketing SaaS platforms abound, Diginary found its brand clients unable to use that data to plot a way forward. Deciding that the missing link was comparative information, the company created the Touchstorm Video Index®, placing virtually every Google search query, social media channel, and a billion pieces of social content into 4,500+ nested marketing categories. The results: competitive consumer insights and historical proof of what content and placements will work to grow an audience in any given category. Touchstorm uses the most advanced data to deliver audience wins for brand clients, and a portion of this data is available in the self-serve VideoAmigo platform, free.
Diginary Holdings is self-funded and women-owned. Touchstorm is certified as a women's business enterprise by the Women's Business Enterprise National Council (WBENC). Company clients include Craftsman Tools, COVERGIRL, JCPenney, Pampers, YouTube, Gillette, Max Factor, Vineyard Vines, Clairol, Kenmore, and YETI.
Media Contact:
Touchstorm
Stacy A. Sarna
stacy@touchstorm.com
877-361-5700
Source: Touchstorm
Share: